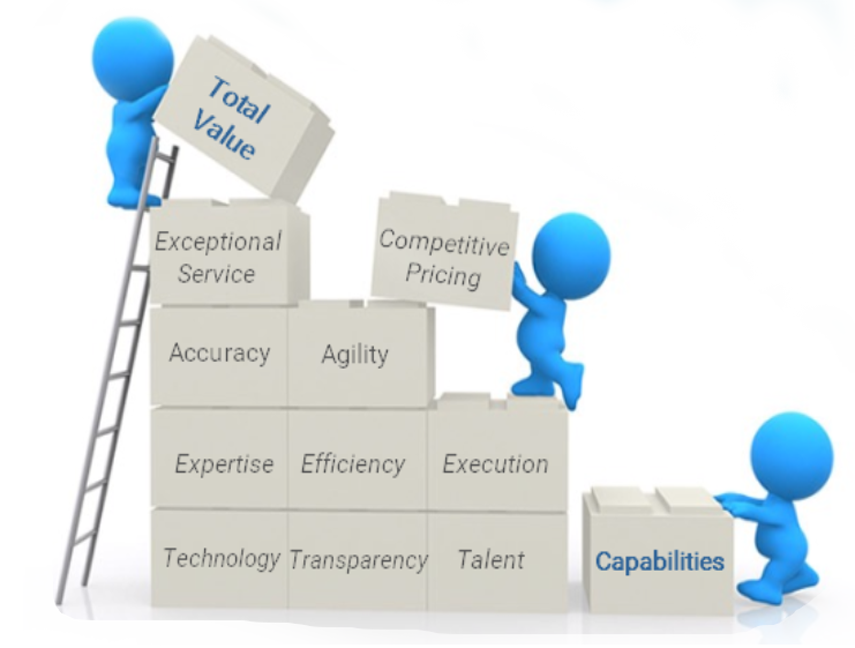 Building Total Value for Customers from our unique Capabilities
Your customers rely on you.
Your colleagues count on you.
And your executives expect excellence from you.
You need a global logistics provider you can depend on to help you succeed for those who depend on you.
That's why we treat every shipment, every transaction as a 'moment of truth' to prove we deserve your business.
And that's why we created we have created our Total Value Playbook for customers to ensure that we do.
Our Playbook is a systematic service strategy designed from our experience and built on a portfolio of six core sets of capabilities:
Account Service...
Service Philosophy - We strive for exceptional service that starts with 'No': NO excuses … NO hassles … NO surprises.
Pre-Sales Assistance - Prior to even doing business with an account, we are happy to help and ready to serve. We will be pleased to provide information, guidance and best practices to help you during your RFP and provider selection processes.
Account Startup - internal checklists and questionnaires are in place to make sure that when you start to do business with us it will be easy and seamless.
Customized Profiles - are created for each new customer to ensure the Service Team understands all your unique needs and requirements.
Dedicated Account Teams - are used to ensure continuity and familiarity with your account.
Commodity Teams - are in place with the knowledge needed for accurate classifications and Customs Clearance.
Account and Operational Reviews - are conducted with Customers to make sure we keep a pulse on our performance and your changing needs.
Facility Visits - We believe that the more we understand your operations, the better we can serve you; so we encourage Customers to visit our facility. We also welcome the opportunity to visit our Customers' facilities to observe and learn about their operations first-hand.
Process Collaboration - Many accounts periodically meet with us to formally collaborate with them on ways to improve productivity and reduce costs.
Custom Systems - We can provide custom reports, metrics and systems interfaces based on your unique needs. Our mantra is: if the data exists, we can give it to you any way you like … and if it doesn't exist, we will find a way to get it.
Transparent Transactions
Pricing - Our quotes and schedule of fees are clear, complete and documented … no surprises, no hidden fees, no 'oh, by the way' surcharges.
Invoices - Our approach to customer billing is to "keep it simple." We believe billing that is complicated or confusing is a sign of trying to hide something. Invoices are designed to be easy-to-read. All billing will reflect and conform to agreed-upon quotes and schedules of fees.
Clarity - All charges are itemized and any special items are fully explained.
Visibility - Our customer reporting and dashboard systems give you constant visibility and communication tracking and shipping.
Process Management...
Documentation Accuracy
Processes - are organized for prompt preparation and filing of Customs documents and entries.
Operational Requirements - Customized Statements of Work (SOW) and Customized Standard Operating Procedures (SOP) are developed for Customers. All JAMCO personnel serving your account will be familiar with these.
Quality Control - Checks and balances are used to effectively control the collection, verification and processing of shipping and customs documents (e.g., Commercial Invoices, Packing Lists, etc.).
Paperwork Reduction - EDI, document imaging and other digital tools are used whenever possible to reduce paperwork and accelerate document flow.
Records and Retention: Advanced systems are used for document archiving and record retention.
Operational Agility
Equipment Availability: As a non-asset based provider, we are not limited by or obligated to whose equipment we use. Unlike asset-based companies, we are able to give you options and alternatives that are best for you.
Network Flexibility - Our flexible network and strategic partnerships are designed to give you the best rates – regardless of who owns the equipment.
Organization - Our size is your advantage. We are organized to provide the network and operational scale to handle the biggest shipments and most complex requirements. Yet we are structured to take care of the smallest details or most unique needs.
Quick Response Capabilities: Our flexibility is especially valuable to Customers who experience seasonality, cyclical demand and "surge periods."
Staffing...
Multi-Lingual Teams - All Service Teams are multi-lingual.
Licensed Brokers - Licensed brokers are on staff to ensure compliance, classification and Customs clearance are conducted in an efficient manner.
Retention - Service Team turnover is minimal. This results in continuity for our Customers, no service disruptions and an experienced and motivated staff that has an in-depth understanding of our Customers' needs.
Training - JAMCO maintains rigorous hiring standards and conducts extensive ongoing training. All Service Teams are thoroughly trained to understand the needs of every Customer. SOPs and SOWs are computerized for easy access and reference.
Expertise - We retain a resource network of seasoned logistics executives with years of practical experience … people who understand the Customer side of our business because they have been there themselves. We leverage their expertise internally in our strategy and operations to make sure we do the right things for our Customers.  We also deploy this expertise directly with our Customers at no charge to work with them in account startups, process improvement and service enhancements.
Constant Communication...
Straight Talk - Communication will be candid and open.
Accessibility - Processes, systems and procedures are in place to ensure that you have total access to the right people at any level of our company… and you won't deal with a bureaucracy, you will always deal with people.
Information Flow - At JAMCO, you won't find systems that "can't talk to each other" and fail to support even your simplest information needs.
Alerts - Where possible, we advise Customers of new Customs policies, regulations and laws.
Exception Reporting - Exceptions to SOPs and/or unanticipated changes or events will be communicated promptly via e-mail or phone.
Feedback - We rely on formal feedback. It's done via daily communication with our Service Team. It's augmented by formal business reviews and operational assessments with Customers where we ask them to rate our performance and explore opportunities for improving their service, reducing costs and increasing productivity.
Problem Resolution - We strive to get everything right the first time, all the time. But if a problem does occur, we admit it, fix it and take corrective steps to ensure it doesn't happen again.
Custom Services...
We have designed and implemented numerous special services and programs for Customers that include, but are not limited to:
Just-in-Time (JIT) programs
Vendor-Managed Inventories programs
Purchase Order Management
Productivity and Process Collaboration
Participants in Customer kaizen programs
Customized Metrics and Reports
Customs and Compliance Training and Consultation